Read the Stories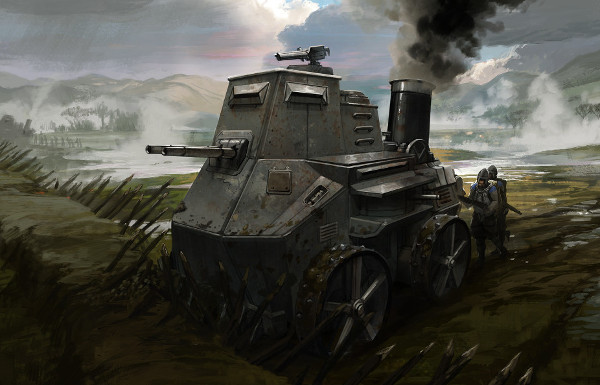 Currently, I only have a few stories posted on this web site. These stories are set in the modern period of Mythania, taking place either during the War of Wars or the Age of Progress, and are a mix of steam fantasy and steam-age adventure stories.
Although I do have many more stories than these, I am currently pursuing publication of the majority of my short stories with both print and electronic magazines.
The Clockwork Horseman can be found in the Devil's Armory III anthology.
Down in the Clockwork City can be found in the Society of Misfit Story's Presents: Down in the Clockwork City.
The Mines of Nuram can be found in the January 2016 issue of Bards and Sages Quarterly.
The Door At Alley's End can be found in the February 2015 issue of Beyond Science Fiction.
---
An Empyrean Knight leads his army against the dark forces of the Vrholv Eradicar in the Battle for Korvica. But the young knight must face a terrible adversary in a fight that will decide the battle's outcome.
Read: The Duel
A King laments the fall of his kingdom when it is invaded by the armies of the Grand Imperium. But he has a surprise in store for their sinister leader...
Read: Elegy of a King
A Tilshan soldier flees from a battle, but is he a coward or a hero?
Read: Coward's War
Recalling the stories of an age of glory, an old man entertains his grandchildren with tales of adventure, mighty heroes, and astounding deeds.
Read: Tale of the Dragonslayer Knights