Enter a fantastical realm of steam, steel, and sorcery—a world where juggernaut war machines ravage the landscape, where stupendous air fleets dominate the skies, where astral mages battle enchanted automatons, and where the march of progress is moved as much by gears of iron as it is by weave of spell.
The Siege Chronicles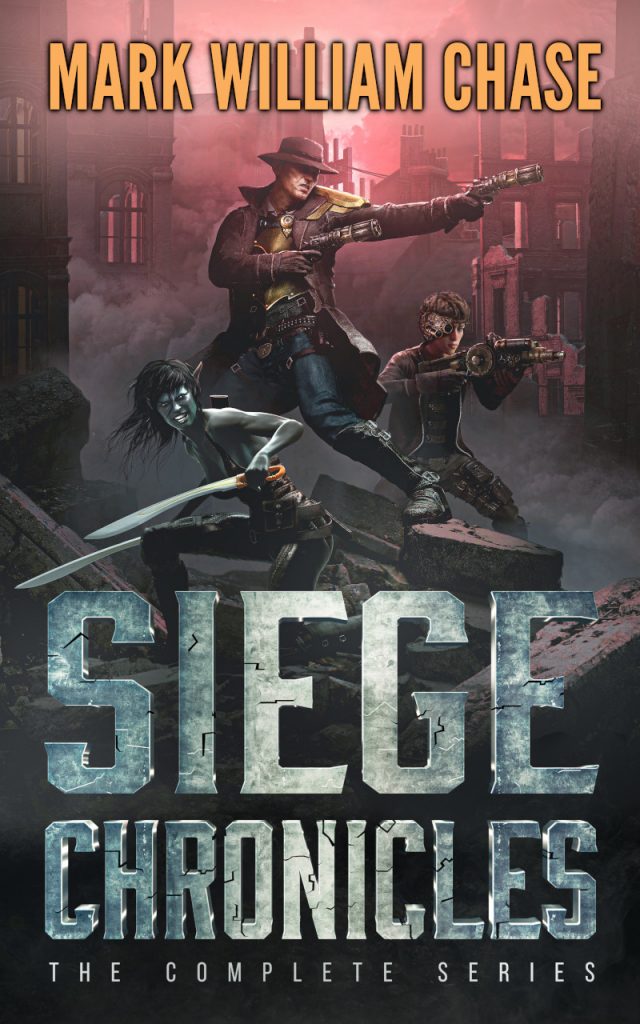 Sell-spell sorcerers, vampire operatives, killer automatons, and a heist to nab a legendary dragon stone… It's all in a day's work for Davrick Caliburn.
Siege Chronicles: The Complete Series brings together all six novellas into a single epic volume recounting the high-flying, gun-blazing, spell-blasting adventures of Davrick Caliburn, Sid Voltelion, and Talyaana Rae.
Taking place during the momentous events of the world-spanning War of Wars, the intrepid mercenary team finds themselves caught up in one death-defying battle after another.
Along the way, they pick up a host of allies, forming a rag-tag band of renegades determined to bring an end to the diabolical machinations of the shadowy Tenebrean Order.

The Case Files of Aldicus Vescard
Currently in development, "The Case Files of Aldicus Vescard" details the strange and perilous cases investigated by the alchemist detective, Aldicus Vescard. Taking place in the Clockwork City of Corradon, Vescard and his mage-in-training assistant, Keldon, will unlock tantalizing mysteries that are as surprisingly fantastical as they are darkly diabolical.
The War of Wars Saga
"The War of Wars Saga" is current in development. Planned as a five part series of full-length novels, "The War of Wars Saga" will cover the major events taking place during the epic War of Wars between the tyrannical forces of the Grand Imperium and the free kingdoms of Ambricar, the Commonwealth, and Suddaea.
Please stay tuned for details!
Other Stories
The Clockwork Horseman can be found in the Devil's Armory III anthology.
Down in the Clockwork City can be found in the Society of Misfit Story's Presents: Down in the Clockwork City.
The Mines of Nuram can be found in the January 2016 issue of Bards and Sages Quarterly.
The Door At Alley's End can be found in the February 2015 issue of Beyond Science Fiction.